Set sail and enter Europe
21-04-28
Continental Europe, a golden state with unlimited business opportunities.
According to data released by Eurostat, the total trade in goods between China and the EU exceeds 425.5 billion Euros, and China is the EU's largest trading partner. In the second quarter of last year, Chinese companies exported 11 billion pounds worth of goods to the UK, and China became the UK's largest import partner.
The biggest advantage of selling on Amazon Europe is that sellers can reach more potential audiences, but there are fewer sellers than in the United States. These two advantages will make it easier for sellers who expand to Europe to gain a huge market share.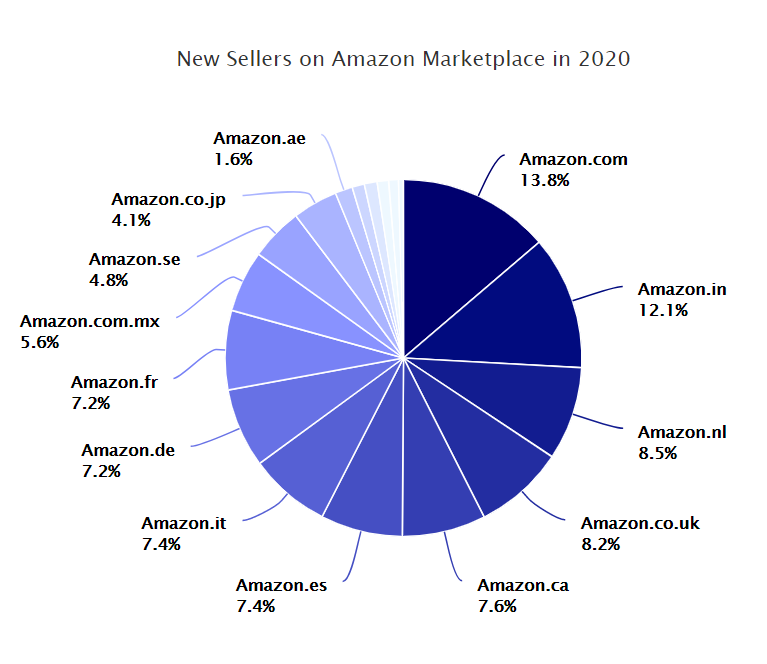 The trade situation between China and Europe is just right, and Made in China has become the main choice of European countries.
The retail e-commerce market in Europe in 2019 reached 393.8 billion U.S. dollars, a growth rate of about 10%. In recent years, the proportion of European cross-border e-commerce in European online consumption has increased year by year, reaching 23.55% in 2019. In addition to the rapid development of cross-border e-commerce during the epidemic last year, Chinese sellers are also paying more and more attention to product quality and brand building. They have established a firm foothold in the European market with their advantages of high quality, low price and strong manufacturing. Now it is not only China's traditional manufacturing industry. Commodities, some high-tech industries also have Chinese companies. From ventilators, wigs, household products to small home appliances, the European market has been surrounded by Chinese products.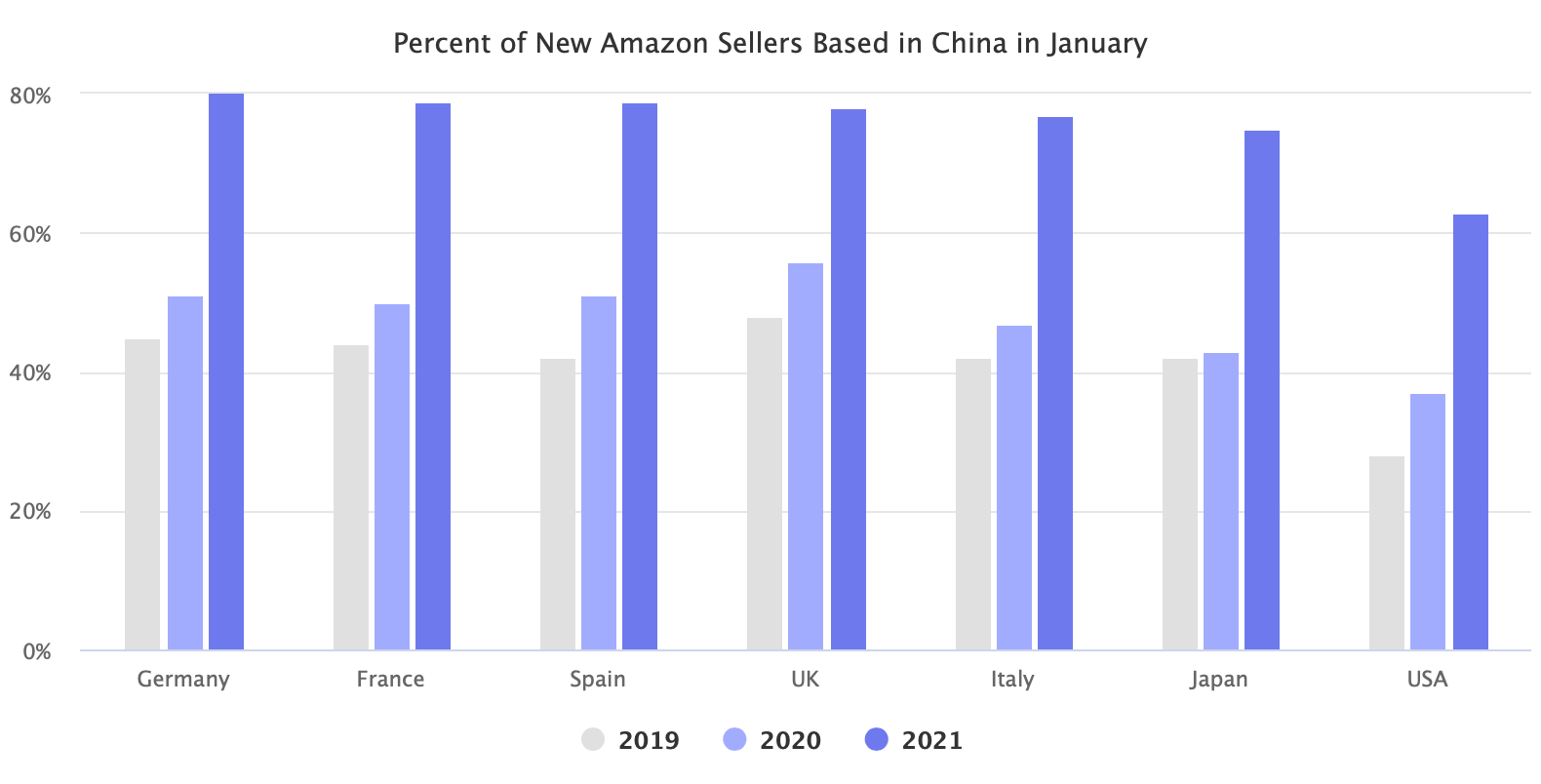 According to the latest survey data from Marketplace pulse, 75% of new sellers in Amazon's four core markets (the United States, Japan, the United Kingdom, and Germany) are located in China. Among them, in Germany, France, Spain, the United Kingdom and Italy, the growth rate of sellers in 21 years has been relatively large compared with that in 19 and 20 years.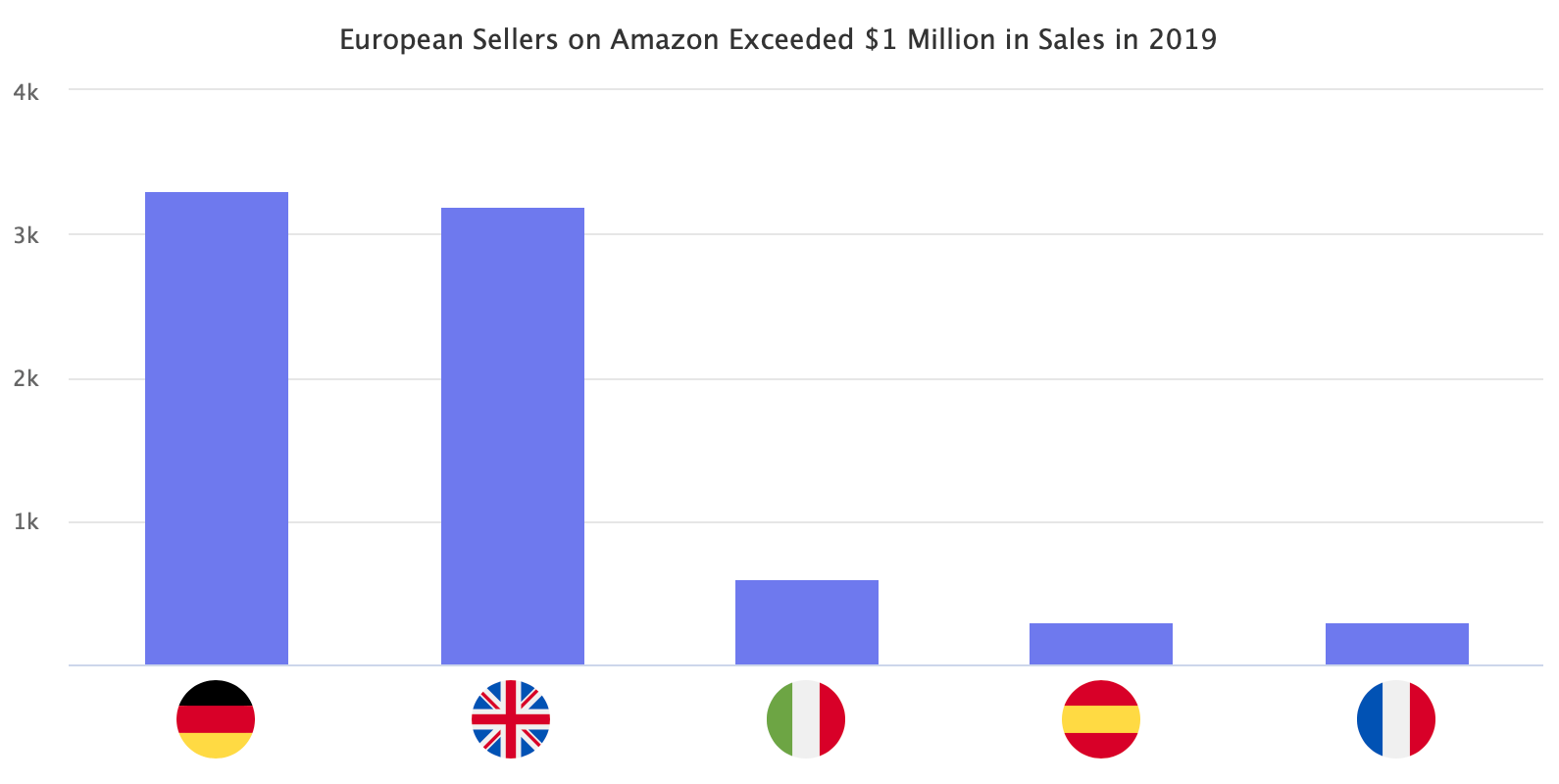 According to data released by Amazon, 85% of European sellers with sales of 1 million U.S. dollars in 2019 came from the UK and German markets. This data proves that the UK and Germany occupy an important position in the Amazon market. According to Marketplace Pulse research, Amazon has reached 20,000 sellers in one of the five European countries. As of 2020, approximately 35,000 people have joined the EFN pan-European program, and more than half of them are from the UK and Germany. In Germany, sellers with annual sales of more than 1 million U.S. dollars account for the largest proportion, and due to the impact of Brexit, Germany's proportion will continue to increase.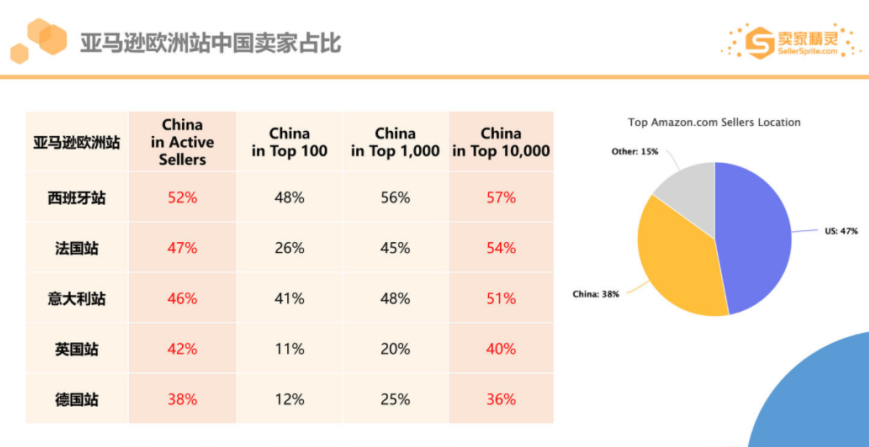 Among the 5 sites, Chinese sellers performed relatively better in Spain, France, and Italy, especially in Spain. Among Top100 sellers, 48% are Chinese sellers, which further shows that small markets are easier Occupied.
During the epidemic, European online category sales changed.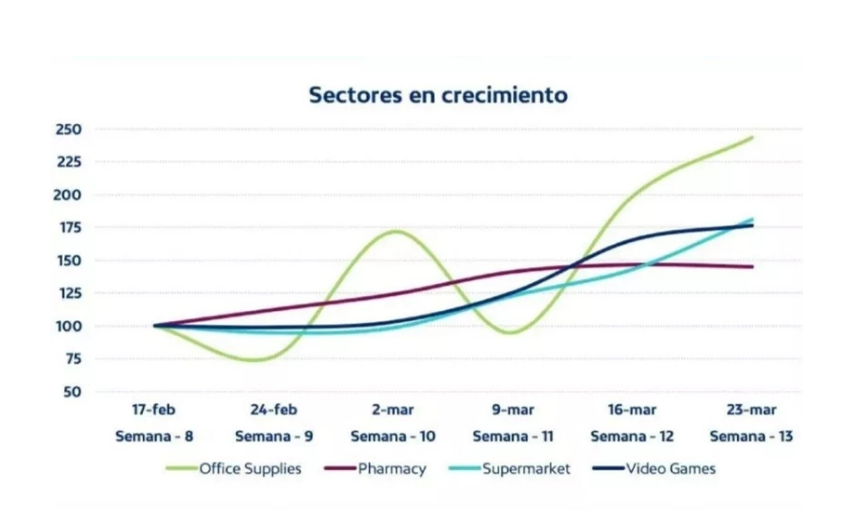 Supermarkets, games, and home office supplies were the fastest growing areas during the entire confinement period. The multi-functional, solid-quality household products are more in line with the living environment and climate of Europeans. Some countries that attach great importance to personal space will also have stricter requirements on household products.
What European buyers value most.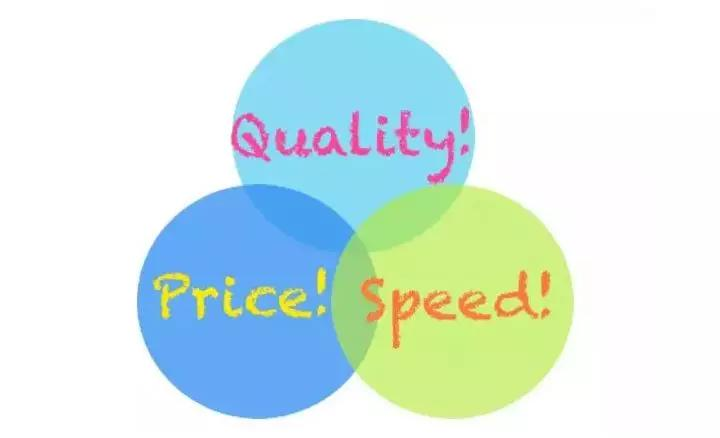 Product quality, price, and delivery time. Many well-known industrial companies in Europe said that they value product quality the most, followed by price. Chinese companies have good quality products and relatively affordable prices. Of course, for local buyers, delivery time is also very important.
New sellers want to enter the European market, what should be paid attention to?
First: Good product design must conform to European aesthetics. For products, a good product design and packaging design are very important. Your design should cater to the expectations of the target group of European customers. Generally speaking, the tastes of European customers and Chinese customers are very different.
Second: Regarding professional design of shops and listings and understanding of local laws and regulations. For example, product photos, descriptions, detailed introductions, etc. displayed on the page, and some product-related videos can be uploaded to allow buyers to understand the product more intuitively. When making product descriptions, try to use the local language to describe the product, and avoid grammatical errors. Because the European product design standards are very strict, the product version descriptions, precautions, return rights and certifications and other information must be clear, careful and accurate. For example, the sale of electrical and electronic products in Germany requires WEEE certification.
Third: Regarding product upgrades and substitutability. Novel products are popular in the European market, but after the novelty, sellers will need to pay attention to product upgrades and alternatives. The market is constantly changing, and so are products. When a product sells well, you need to contact the supplier in time to upgrade the product.
How to solve the tax problems that Europe needs to face?
VAT (Value Added Tax) is a tax system of the European Union, usually called value added tax, which is equivalent to consumption tax. Used for all kinds of goods and services transactions in Europe.
For example: a seller plans to sell a product to a UK customer at a price of £100. The UK VAT rate is 20%. The seller needs to add this part when selling, which means that the retail price of the product should be 120 GBP. The seller keeps 100 pounds, and the remaining 20 pounds must be declared to the British government. At present, due to policy changes, the UK has received VAT from the platform from January 1, 2021, and the other four countries have also implemented VAT from 7.1. Therefore, in order to sell products in Europe, sellers must become more and more compliant.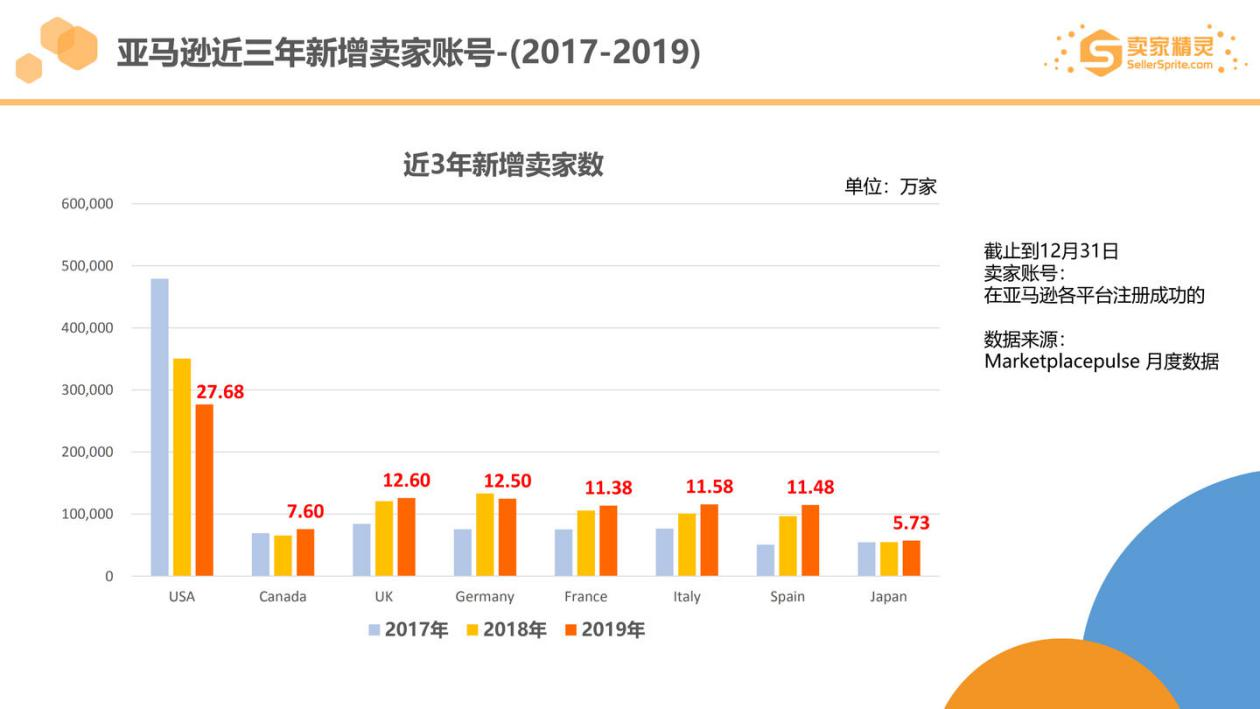 From the increase in the number of sellers, we can see that the United States ranks first, more than twice as much as the second place in the UK; followed by the five European sites, and their number of new sellers is not much different. The trend of the number of new sellers in the past three years, except for the US station, due to increasingly fierce competition and increasingly saturated market, the number of new sellers is gradually decreasing, and the European station is basically a growth trend. It can be seen that the overall market capacity still has enough market space for new sellers to enter, so how to open an Amazon account?
Information needed to open Amazon Europe site:
1. Scanned copy of company business license
2. Proof of corporate identity and address
3. Dual currency credit card used for back-office deduction
4. E-mail for login in the account background (new)
5. Mobile phone number (new)
6. Independent and clean IP address
7. Personal bill
8. VAT tax number of each country
9. Receiving account for Amazon backend (Wanlihui, Pingpong, etc.)
A word to the seller
When the store is ready to debut, it is about to start to market. In addition to a certain understanding of the entire product and the market, search engine optimization of product keywords, email marketing, and social media advertising all need to be done well. Keep in mind the multi-cultural, multi-lingual attributes and diversified income levels of Europe. Of course, it is also necessary to prepare a marketing calendar for all-year holidays in Europe to facilitate the planning of various promotional activities. More importantly, improve the overall supply chain level, so as to have a more competitive advantage and make a brilliant performance in the European market!