The furniture e-commerce giant that has emerged during the epidemic is actually
21-03-23
The furniture e-commerce giant that has emerged during the epidemic is actually it...
According to the latest U.S. Department of Commerce data, U.S. e-commerce will grow by 32% in 2020, reaching $790 billion, up from $598 billion in 2019. U.S. e-commerce accounts for 14% of total retail spending, a significant increase from 11.3% in 2019, and many Americans shop online for the first time this year. In the past ten years, U.S. e-commerce sales have grown by an average of 15% year-on-year.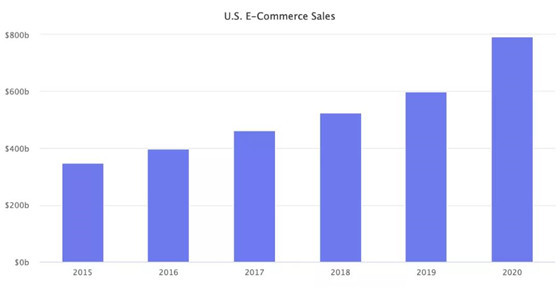 Picture above: U.S. e-commerce sales (2015-2020)
Due to the continuation of the epidemic, for European and American consumers, online consumption is still their main shopping method. At the same time, consumers' requirements for house layout, environmental comfort and exquisite life make furniture products occupy the largest market expense. In addition, with the passage of time, people will regularly replace furniture products for aesthetic and quality upgrades, thereby promoting the steady growth of furniture product sales. According to Statista data, furniture such as sofas and bedrooms are among the most demanded categories in the global furniture market. The compound annual growth rate of online sales of the furniture category from 2018 to 2021 is 11%; it is estimated that by 2030, only the United States will The online furniture market will occupy 40% of the market. In December 2020, the online penetration rate of American home furnishings reached 35%.
The competitive landscape of the American furniture market
At present, the scale of the home furnishing industry exceeds US$296 billion. Well-known American companies in this field include furniture stores such as Ashley Furniture, Bob's Discount Furniture, large retailers such as IKEA, Target, Walmart, department stores such as JCPenney and Macy's, Crate and Barrel, Ethan Allen And other franchise retailers, Wayfair, Amazon, Build.com, Houzz and eBay and other home furnishing e-commerce. In addition, there are also Canadian home furnishing retailers such as Leon's and Canadian Tire for the US market. Among them, Wayfair (33.4%), Amazon (29.7%), HomeDepot (17.48%), Overstock (3.59%), ikea (2.75%).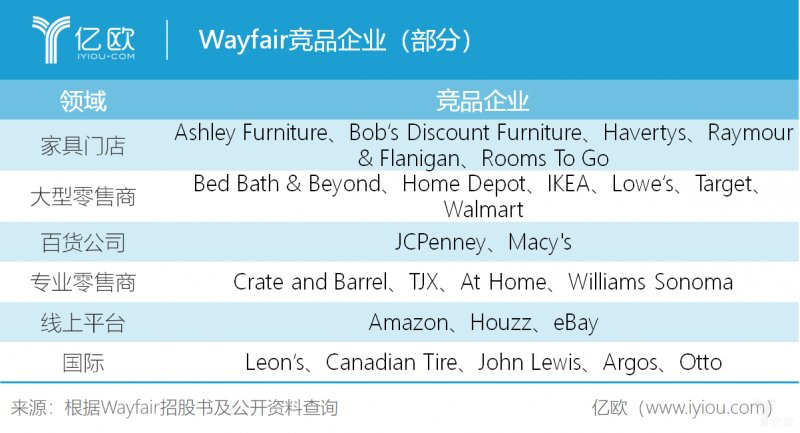 Why can Wayfair become the nation's largest home furnishing e-commerce platform?
Wayfair estimates that the household goods market will be worth more than 800 billion U.S. dollars, with the United States and Europe each accounting for half. In this category, sales through online channels are increasing by 15% every year. Old customers' willingness to buy back is an important factor behind Wayfair's growth. Old customers have low marketing costs, and relying on old customers alone can ensure sustained and stable growth. According to Adobe's research, millennials (20 to 37 years old) are very accustomed to online shopping. Many people plan to stick to e-commerce shopping after the epidemic, which brings great opportunities and confidence to Wayfair. Compared with these competing products, Wayfair has established its own competitive advantages through three aspects: products, services, and offline. Through a series of upgrades and innovations, it has truly solved the pain points of online furniture shopping for consumers.
1. Online customer service shopping experience. Answer consumer questions at any time and make practical suggestions according to the different needs of each customer;
2. Strengthen visualization. Wayfair provides consumers with product 3D display images, image search, home matching solutions, and buyers' physical images, etc.;
3. High-quality distribution service. Provide free shipping for products valued at $49 and above, and deliver large pieces of furniture to the door;
4. Self-built logistics system. Provide the ultimate user experience and reduce reliance on third-party logistics. In the United States, about 63% of large-scale parcel delivery uses Wayfair's last mile storage and delivery service system.
5. Develop its own brand. Complete control of product quality. The proportion of private label sales increased from 5% in 2015 to 57% in 2017.
Wayfair grows 55% year-on-year in 2020
Wayfair is the largest home furnishing e-commerce platform in the United States. Its business scope includes home furnishings, furniture, home appliances, home textiles, decorations, lamps, building materials, outdoor products and other products. It ranks first in North America as a professional home furnishing e-commerce sales platform. Its websites include: Wayfair, Joss & Main, AllModern, Birch Lane, Perigold.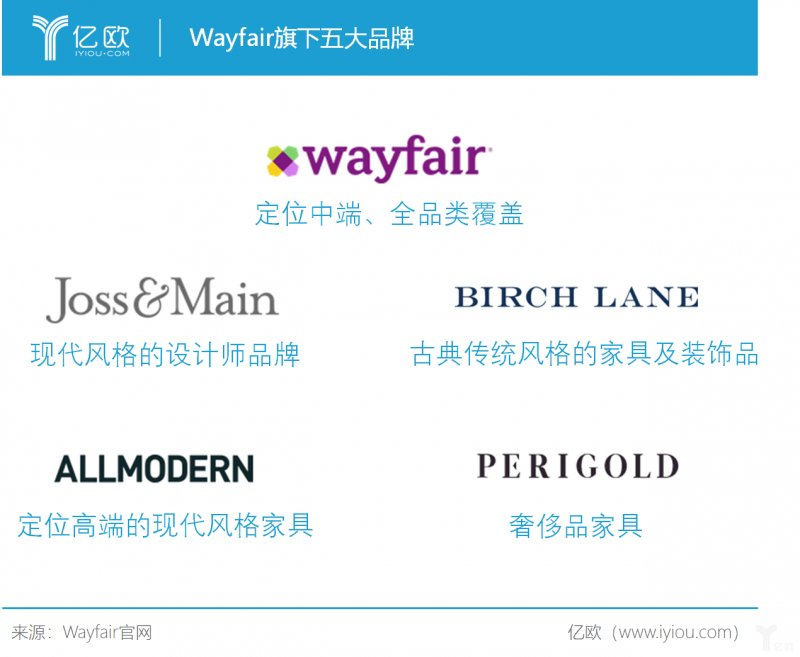 Wayfair generated a total net revenue of US$9.1 billion in 2019. As the world's largest home furnishing e-commerce platform, Wayfair officially reported its financial results for the full year and the fourth quarter as of December 31, 2020.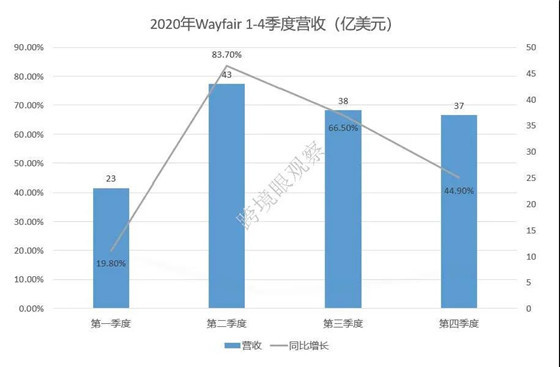 2020 full-year financial data
Total net revenue was US$14.1 billion, a year-on-year increase of 55.0% (US$5 billion);
The total US net revenue was US$11.9 billion, a year-on-year increase of 53.3% (US$4.1 billion);
Total international net revenue was US$2.2 billion, a year-on-year increase of 64.8% (US$900 million);
Gross profit was US$4.1 billion, accounting for 29.1% of total net revenue;
Net profit was US$185 million.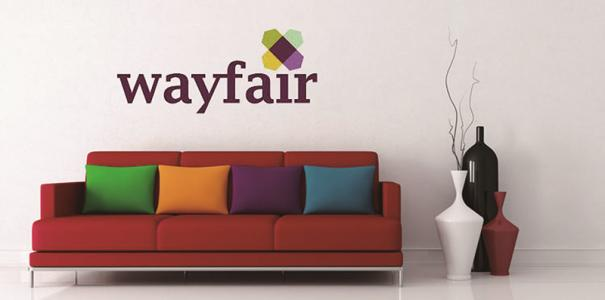 Entry requirements
1. The supplier has a U.S. company and account, or a qualified Chinese company;
2. Information required for the application platform: company introduction, product price list, product pictures;
3. SKU quantity requirement: 20+;
4. The product belongs to its own brand, with good quality and a strong sense of design;
5. Provide product liability insurance;
6. Product packaging meets ISTA 3A/6A standards;
7. There are stocks in the United States and shipped in the local warehouse, using the Drop Ship model;
8. Lead Time (the buyer places an order and the seller delivers the goods) does not exceed 48 hours, and 98.5% of orders must meet this requirement.
9. Does not support follow-up sales, does not support association.
10. Cooperation mode: You need to be approved by Wayfair's Buyer and pass the review before you can have a chance to establish cooperation (Sellers who have accumulated more than 1 million US dollars on Amazon and qualified, can try to contact wayfair)
A word to the seller
Wayfair mainly focuses on the economic capacity of the consumer group, targeting the middle class between 50,000 and 250,000 US dollars. There is no commission on the platform, only 4%-5% of cargo damage is accepted as a guarantee, and the final freight is responsible. The seller does not have to bear the final cost, and the overall profit level is relatively high.
In 2020, the popularity of the wayfair platform will gradually increase, and a large number of sellers will settle in one after another. The future competitive environment will be fierce. The early operation will inevitably fight a price war. Sellers must improve the overall supply chain level in order to have a competitive advantage.